Why do you see quotes from $1500 to $3000 for the same wrap?
As an educated consumer, it's important to gather the facts.  For example a person could buy a watch for under a $100 or over $1000.  As we all know the watches are not the same. A person could buy cheap lower grade paint from the home supply store, but they have to paint the walls with three coats to get proper coverage.  As with most products you get what you pay for and this holds true for vinyl wraps as well. Unlike paint, you only get to put a single coverage layer on with vinyl so high quality does show differently.
Materials:
Some wrap companies say we only use 3M or Avery vinyl. What they may not be telling you is they will be applying low grade vinyl from these manufacturers to cut costs.  Ask for the vinyl manufacturer and product code. We always welcome clients to view their graphics on the vinyl before application so they know exactly what they are getting.  Low cost wrap companies also cut corners on using quality laminates. Laminates are clear coatings that make your vinyl last longer and fade less over time.
Preparation:
Vehicles must be cleaned thoroughly, dried and wiped down with solvent in order to remove any type of dirt and wax.  These steps are time consuming and many times not done properly by low cost wrap companies to save installation time.  Low cost wrap companies also try to cut around emblems and mirrors to save time and the end result is an unprofessional look .
Wrap Coverage:
There is no one "right" choice to design a vehicle wrap and the custom possibilities are enormous.  Be aware that some wrap companies fail to tell you of extra charges for covering the roof or certain parts of the vehicle.  Scoops, spoilers, air intakes and grills are many times omitted in the quote. After the project has started, you find out that you are going to have to spend more money to get what you thought was included up front in the quote.
Installers:
High quality vehicle wraps require attention to detail, skill and training.  Our most seasoned installers with over 30 years' experience have to take their time to complete a professional looking wrap.  If someone promises you a really fast turnaround time, there is a good chance you will not be completely satisfied with the final result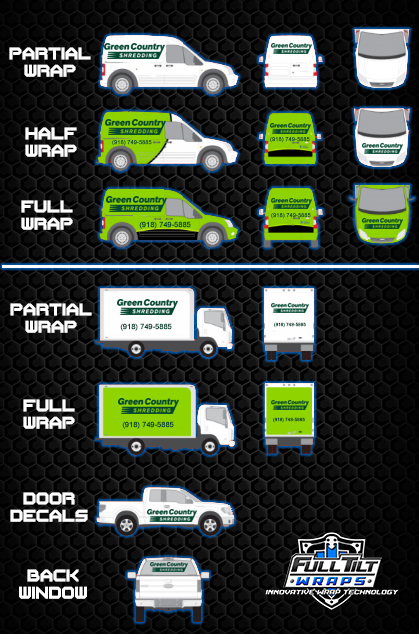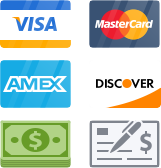 Full Tilt Wraps – Tulsa OK
Phone: 918.992.9002 or 405.351.9878
Commercial Vehicle Wraps, Trailer Wraps, Custom RV & Bus Wraps, Boats, Racecars, Walls, Floors, Windows, More
Serving Tulsa and the surrounding Oklahoma areas.
Contact Us for a Free Wrap Estimate